OUR FEAT IN ONLINE MARKETING
Our strength of 250+ experts use their relevant industry experience to make your brand more popular on different social media platforms such as Facebook, YouTube, Google+, Twitter, etc. They have successfully met the needs of 9100+ clients and accomplished 13200+ projects. Our services are designed in a way that you can clearly view that people are talking about you and offer you a better area, where you can get involved the best to increase brand awareness.
---
To know more about Sparx IT Solutions, ask our expert or you can check our portfolio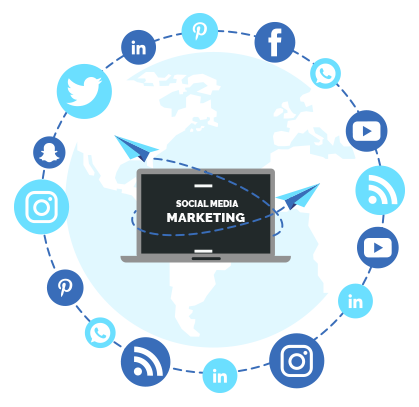 OUR SOCIAL MEDIA MARKETING SERVICES COMPRISE
VIRTUAL MARKETING
---
Drive traffic and online brand exposure with virtual
marketing and get more audience response on social
media networks.
FACEBOOK PAGE MANAGEMENT
---
To attract the Facebook audience and grow their
number rapidly, we provide an exclusive Facebook
page management service.
TWITTER ACCOUNT MANAGEMENT
---
This critical but crucial task is being handled to grasp
Twitter users' attention who are actively available over
them.
IMPROVE SITE CONVERSION
---
Video Optimization This process includes the
execution of varied technology used generally by the
mobile service providers for improving the viewing
experience.
SOCIAL MEDIA AUDIT
---
For social media audit execution, we hold a team of
ardent SEO experts to audit, evaluate and rise brand
awareness.
LINKEDIN PROFILE CREATION & MANAGEMENT
---
The complete LinkedIn profile is created by the
professional writer & managed by the experienced
professionals using branding strategy.
YOUTUBE CHANNEL CREATION & MANAGEMENT
---
We implementing the essential YouTube channel
building and management tips help you reach out to
more fans.
COMMUNITY PARTICIPATION
---
Participating in this approach is beneficial to attain the
ensured meaning engagement with the communities
at International level.
SOCIAL BOOKMARKING
---
We do effective bookmarking management and allow
the respective client to edit, share, add and annotate
bookmarks.